22 October 2021
Interview: "KARNAK Medical: the start-up creator of Biotechnology that communicates with our cells"
The innovative start-up creator of the Biotechnology that communicates with our cells and regenerates them through our body's native electromagnetic signals and light pulses.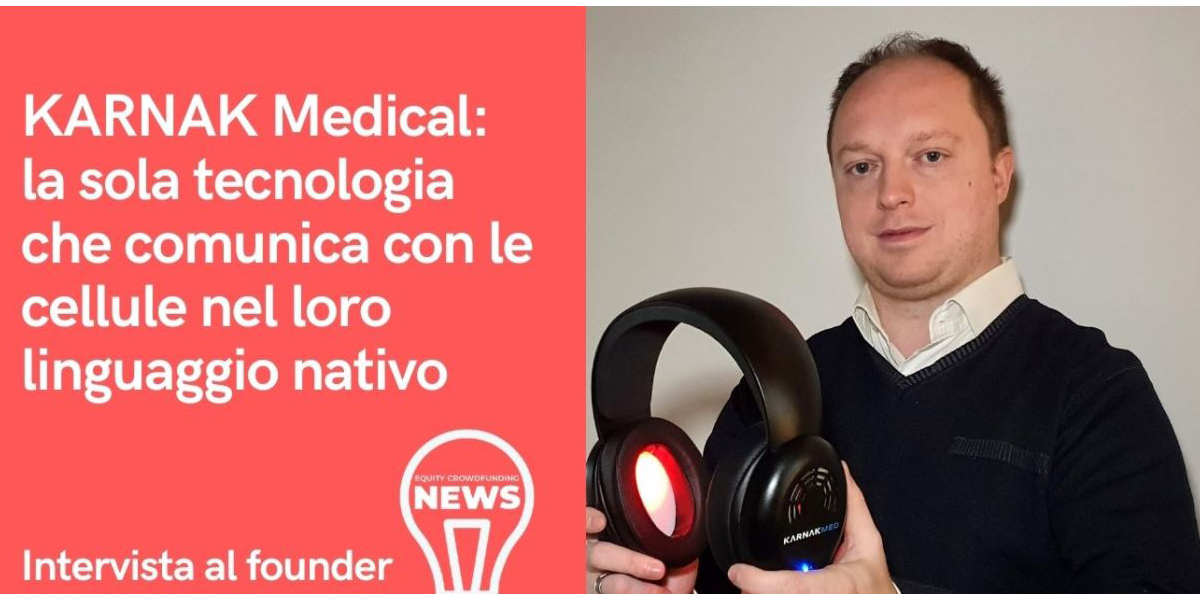 KARNAK Medical is the innovative start-up company that created the unique biotechnology in the world able to communicate with our cells to regenerate them through devices that use electromagnetic signals and light pulses native to our body.
We interviewed Elio Muti, Founder and Administrator of KARNAK Medical, who explained us more about this innovative project.
What is the story of KARNAK Medical? How was the project born and what is your business idea?
After a scientific path of research and development for over 25 years with KARNAK Medical we are proud to make available to professionals and individuals a new generation of therapeutic technology for treatment and prevention without the use of drugs and with zero side effects.
A new generation of devices that allow a direct, scientific and non-invasive action on the causes of multiple diseases.
The KARNAK Medical project is based on the most recent scientific discoveries in Medicine and Quantum Physics together with the teachings of several Nobel Prize winners that show how crucial is the biophysical aspect of the human body for psychophysical health.
We have patented our technology internationally in Europe, USA, Canada, China and Japan. The technology heals the cells of the body and regenerates them through natural electromagnetic stimuli. Light and electromagnetic frequencies are the alphabet used by our cells and neurons.
It is for all intents and purposes the only technology that communicates with cells in their native language: the language of life!
KARNAK Medical has come up with integrated quantum medicine devices that can communicate with our cells to regenerate them. How exactly do they work?
Our therapy is scientific, natural and non-invasive. All you have to do is wear the appropriate headphones and listen to the signals generated by the wave generator device to regenerate. Nothing could be simpler!
All cells in the body produce electrical energy and use very weak electromagnetic signals to communicate with each other. The health of each cell is determined by the electrical energy it produces, so acting on cellular electrical potentials allows us to improve its operation and increase, consequently, the overall health of the individual.
We have created a technology consisting of portable devices that use a special headset to cure: it is not science fiction but science to all intents and purposes.
Each cell has its own oscillation frequency and it is for this reason that the electrical activity of the heart and brain are measurable through the electrocardiogram and electroencephalogram. All cells respond when stimulated at their own frequency.
This phenomenon is known as resonance and it is through this biophysical mechanism that our cells can be tuned to play correctly in concert. This alphabet of signals consists of sounds, infrasound (inaudible sounds) and light pulses that, if kept active, increases the production of cellular energy (ATP).
Our body in fact consumes energy throughout the day to maintain vital functions and regulate body temperature and so, as every day we recharge our smartphone, today we are finally able to recharge our vital energy as well.
What are the fields of application of your innovative technologies and therefore what is your target market?
Our patented technological solutions are the most advanced science has to offer. We are the forerunners of Quantum Medicine and we collaborate with internationally renowned luminaries in Physics and Medicine.
The fields of application are many and potentially infinite: we can range from people's health, to animal health (zootechnics), to agriculture up to the aerospace industry. In fact, it is well known that in orbit and in space there is a total absence of natural frequencies and, more specifically, of the Earth's resonance which is fundamental to stimulate cellular vitality.
We have a wide range of commercial offerings aimed at both individuals and health professionals in different areas such as: medical centers polispecialistici, dental offices, physiotherapy, psychology and sports clubs and medical spa.
Today there is an Italian and international market of medical device and wellness manufacturers that use pulsed electromagnetic field technology. However, no competitor offers a cutting-edge technological solution that works by dialoguing directly with the native language of cells and in full respect of the uniqueness of each person.
Thanks to the valuable contribution of investors, it will be possible to complete the development of the most recent patent for treatment with light (Light Therapy), which will act as a trailblazer for the fields of aesthetic and sports medicine.
We are a productive reality, made in Italy and certified medical with the aim of expanding initially in the European market through distributors and reach the rest of the world through the sales of our e-commerce site and social media channels.
What are your top products?
Multiple product lines are available for both healthcare professionals and individuals with a wide range of programs and frequencies for personalized therapies.
The KARNAKMED® line is certified medical, registered with the Ministry of Health, is the solution dedicated to health professionals for the treatment of multiple diseases and prevention.
The UNIWAVE® line, born from the medical line, is the solution within everyone's reach for daily wellness, dedicated to individual home and sports use for the well-being of the whole family.
The next QARK line will be the solution dedicated to aesthetic and sports medicine to bring the benefits of sunlight into our cells. Patented line that will soon enter the development phase.
You have decided to fund yourself through equity crowdfunding. Why this method of financing?
We evaluated Equity Crowdfunding as the ideal tool to get a wide visibility to private investors who invest in the future even small amounts of money.
At the same time this solution guarantees less bureaucracy in investment operations as well as providing a great advantage to investors thanks to the tax credit of 50% on the capital invested.
The investment in KARNAK Medical is motivated by multiple factors:
the projects are born from scientific concepts and take shape thanks to the research and development that is carried out internally within the Company
expertise and collaboration with internationally renowned scientists, physicians and university researchers
project characterized by a high degree of technological innovation and economically sustainable
Quantum Medicine represents the new frontier of medicine and has still very high margins of development
the target market is in strong health care growth and our devices meet the needs of both healthcare professionals and individuals.
Thanks to Equity Crowdfunding more investors have already made their contribution and we are proud that some of our most loyal customers have enthusiastically joined our project.
How will you use the funds raised and what is the outlook for the future?
Thanks to the raising of capital we will be able to develop a sales network suitable for commercial expansion in Italy and realize the brand new patented technology dedicated to aesthetic and sports medicine. With this technology, currently called QARK, it will be possible to regenerate the skin, reduce wrinkles and skin imperfections, as well as repair the cells of the entire body through exposure to special lamps that recreate the healing wavelengths of sunlight.
We will develop a complete commercial line for aesthetic medicine with consumable products and additional dedicated services. We have the ambition to offer our customers the highest quality service and customer care.
We will dedicate resources for social/media activity and to create articles and video tutorials in our website through the Journal tool (scientific blog).
The website itself, www.karnakhealth.com, will become a real point of reference for our professionals, healthcare professionals and end users who will in turn be able to contribute with interviews and testimonials to involve a wider and international audience.
In the medium-long term we will consolidate our position in Italy and equip ourselves with a commercial network for the different sectors.
Our patents will also allow us to create wearable solutions for use during daily activities. It will also be possible to develop solutions dedicated to the sectors of animal husbandry and agriculture through partnerships with leading companies in the sector.
We are an innovative startup with great potential and endless applications!